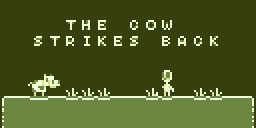 The Cow Strikes Back
A downloadable game for Windows and Linux
Aliens appeared at a farm and are abducting cows. But you won't stand quiet!
As a cow with special powers, eat grass to fill up your energy and then strike the aliens with a powerful laser!
Controls
Movement: WASD, Arrow keys, gamepad directional (and left stick)
Jump: W, X, up arrow, A button on the gamepad

Eat/Shoot laser: Space bar, C, B button on the gamepad
Fullscreen: F12
About
Originally made for the Meeting Jam, slightly enhanced for the LowRezJam. It's still quite unpolished, but I doubt I'll ever come back to this game to finish it.
Comments
Log in with itch.io to leave a comment.
oh this is not a GB Rom :(

Hm... I had completely forgotten that I put the GB tag in this game. In hindsight, I feel like it doesn't really deserve that, as it only uses a 4-color palette but wasn't really inspired by GB limitations/aesthetics...
Well, sorry for misleading you. :/